By week 3, meeting Mitchell, Wamaitha, and Sharon at the lesson sign was becoming the new normal. Upon meeting, we were able to chat and catch up on our weekends instead of repeating introductions and trying to remember each other's names!
This week we skipped right over the carpet and went straight up the chair!
Once up, our instructor Dan led us on a few laps down the hill to help remind us what we were working on last week. I definitely needed the reminder, as I had spent my weekend skiing in Revelstoke and still had skiing on the brain. After a few warm-up laps though, I was back in snowboard mode!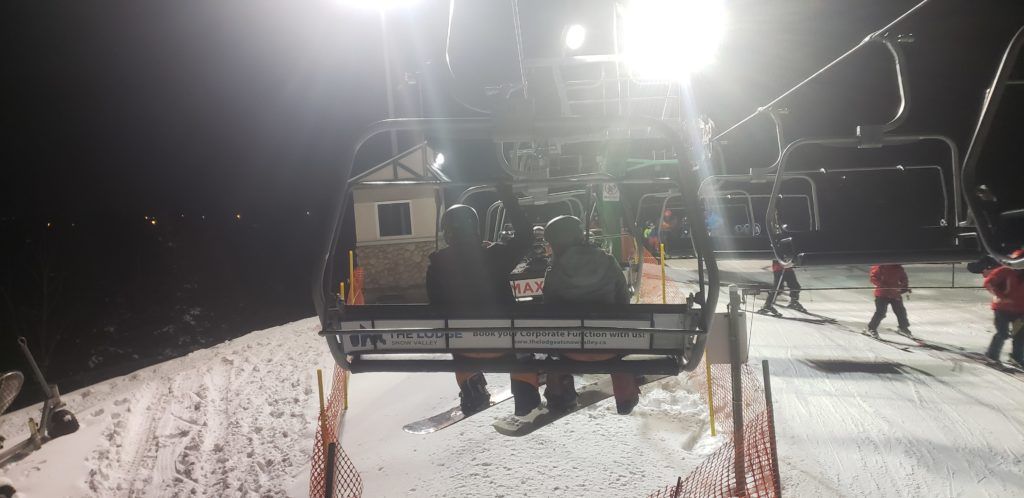 Once we warmed up, it was time to start linking our turns. Instead of turning, then slowing down/stopping, we just went straight from to turn-to-turn. We also worked on using more of our bodies, such as our knees and ankles, to make our turns sharper and more efficient.
Linking the turns is a big step, and everyone was progressing to that point at different rates. I was very impressed with Dan, who was able to watch all of us separately and give individualized drills and tips to help us.
While working on our skills down the hill, we were also sharing the hill with Special Olympics Edmonton. They are out on the hill every Monday evening at the same time as us, working on their ski racing skills! Special Olympics Edmonton is a non-profit in the city that is committed to enriching the lives of Albertans with an intellectual disability through sport. It is cool seeing all of the athletes skiing down the hill far better than I can snowboard!
As our skills started to progress down Old Road and Snowflake, Dan decided that it was time for us all to move onto a longer, steeper hill. Off to South Paw we went.
It was quite fun moving onto the longer hill, as we were able to get more comfortable on steeper terrain. The slope also fluctuates between steep and shallow. This means that it takes more work and adjustment to keep moving safely down the hill. By the end of the lesson, though everyone was progressing at different rates, everyone was showing massive progress individually!
After the lesson, everyone stuck around for an extra run or two to cement what we had learned in our heads. It was really a great night and there were definitely some breakthroughs in learning.
It is hard to believe that the 5 week lesson program is already over half done! I am already looking forward to next week with Mitchell, Sharon, and Wamaitha, where we can keep learning and growing our skills even further.
Alex