As I once again grabbed my rental snowboard and headed out of the lodge at Snow Valley, it dawned on me that it had been 2 weeks since I last stepped on a board and that I had not even practiced once since the last lesson. Fingers crossed this was going to go well!
I got to the starting area and met up with my co-students Wamaitha, Sharon, and Mitchell, as well as Dan, our instructor for the day! (Unfortunately, our first-day instructor Cody got a flat tire and was unable to make it.) Next was some quick warm-up stretches, then up the carpet.
Because we were a bit out of practice and we had a new instructor, Dan had us slide down the hill on our heel edge and our toe edge (ie. facing uphill and facing downhill) to find our balance on the board again. Though very wobbly at first, we all quickly found our balance and were ready to head up the chair for the first time to try our skills on a longer run!
In my head, I know that though the physics of turning skis and snowboards is the same in principle, it is definitely much harder in practice.
Luckily, Dan was very patient with us and made sure that we all felt comfortable leaning forward and back on the stationary boards. Then it was time to go downwards!
Though everyone fell multiple times, I was genuinely surprised at how quickly everyone was learning. Even though we had to skip a week due to the very very cold weather, we all (in my untrained opinion) improved a lot from the first session.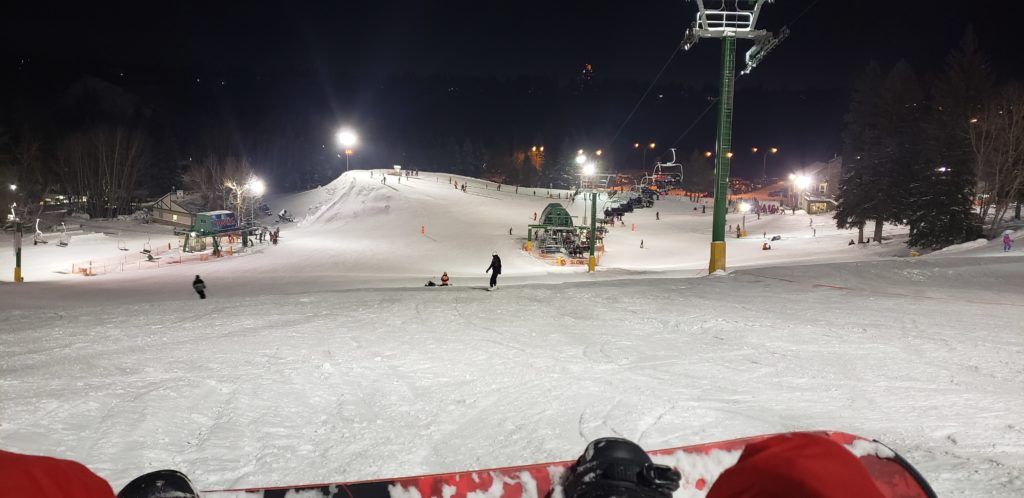 Dan was full of useful tips; by the end of the lesson, everyone was able to turn both directions all the way down Old Road. Old Road is the longest and shallowest run on the hill, which makes it ideal for practicing the techniques at slow speeds.
Yesterday was definitely a big day in that we tried out the chair lift and spent our day focused on carving rather than simply sliding; there were smiles all around, and everyone seemed very proud of the progress they made!
Though there is definitely room for improvement, we will all certainly be using our next 3 weeks to grow and improve our skills. I already can't wait to get back out there next Monday with my new skills and new friends!
Alex