I grabbed my rental board and headed out to the lesson flag unsure about what to expect for my first snowboard lesson at Snow Valley Ski Club. I haven't stepped on a snowboard in years! Where was I supposed to go? Who was my instructor? How many times was I going to fall?
Luckily before I got too lost, Cody came forward and introduced himself to me as the Snowboard Group instructor. I met my other group-mates Sharon, Mitchell, and Wamaitha too, and before I knew it, I had a snowboard strapped to my foot and we were on our way up the Snowflake carpet before the first run.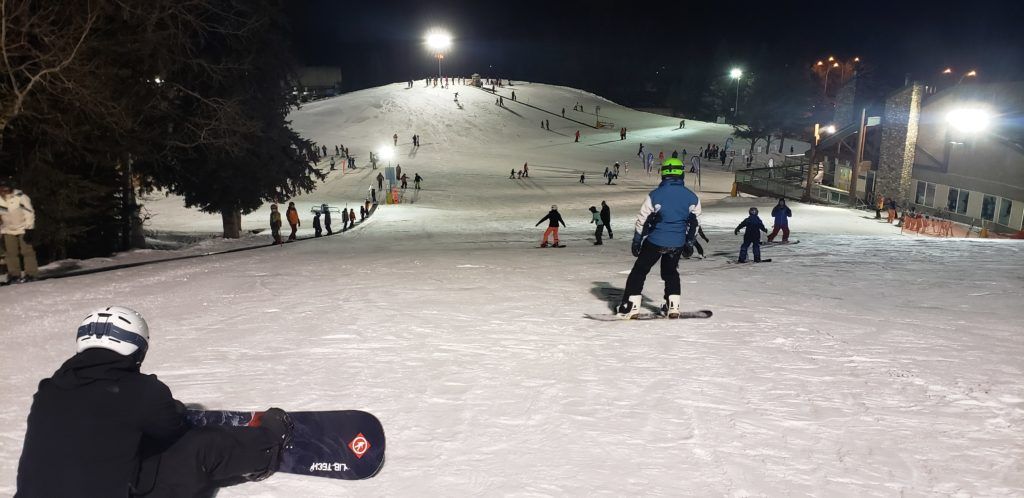 I'm Alex, and though I am an avid skier, I am very, very beginner at snowboarding. Which is why I've signed up for the adult 5-week snowboard lesson! I figured I might as well push myself and learn even more skills on the snow!
My initial reaction was how clunky the snowboard felt hanging off one foot, as I'm used to having the firmly-attached skis on both feet, but I was (sort of) able to figure out how to walk around.
Once up the Snowflake carpet, Sharon, Mitchell, Wamaitha and I eagerly awaited our instructions. "Just try to make it down the hill; Get comfortable with sliding on the snow" were Cody's instructions. One by one, we all strapped onto boards and were sliding our way down the hill—some of us facing uphill, some of us facing downhill, all of us quite wobbly. However we made it down, before we knew it, we were on the carpet back up the top!
As Cody kept watching and giving us instructions, we all started to progress at our own pace. Working on sliding on the heel edge (facing downhill), toe edge (facing uphill), and transitioning between the two on corners! I almost couldn't believe it when Cody told us that we only had time for one more run. Had it really been an hour and 45 minutes already? Though my co-students and I spent nearly 2 hours sliding, falling, and getting up again, it felt like hardly any time had passed at all.
There were certainly smiles on all of our faces as Cody wrapped up the lesson and wished us a good night. Nobody followed him indoors though –we were all having so much fun on the hill! We stuck around outside and everyone went for another run or two to work on our skills more, hang out, and spend some more time outside!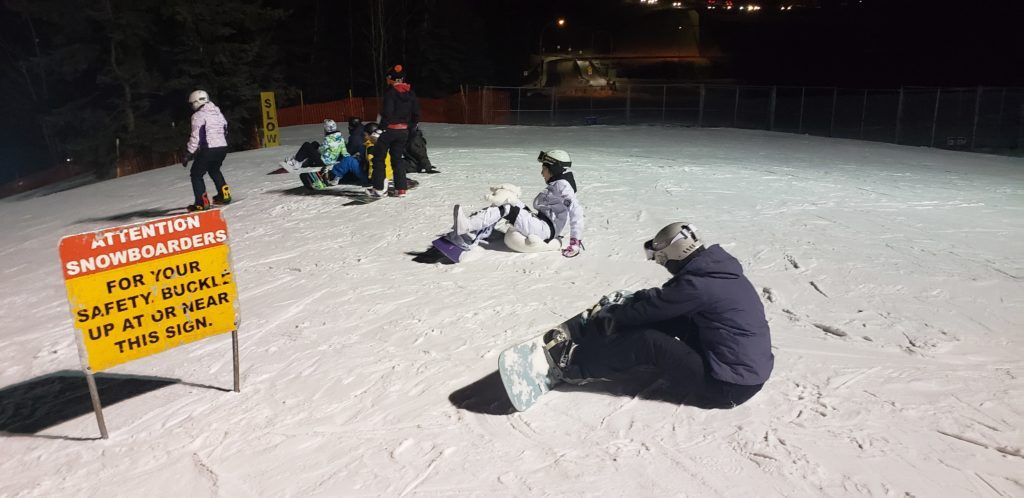 It was very cool to me to see how Cody was able to manage the group of people moving at quite different paces in their learning while still being able to keep everyone engaged and learning. I was also surprised at how quickly I was able to get up and standing and turning on the board, despite how strange it felt when I first strapped it on.
Whether it was the excellent instruction, great people in my group, lovely evening, or some combination of all of it, I had a fantastic night! I absolutely cannot wait for next week's lesson where I can reconnect with the people I met today and continue learning more about how to snowboard.
It really is never too late to learn.
Alex