July 7, 2023
The 2023-24 ski season will mark seventy-five years of skiing at Snow Valley.  The club's long and rich history is a testament to those who started it all by walking up Whitemud Creek ravine and sliding down the slopes.  Here's how it got going…
The following is taken from "The Snow Valley Story: 65 Years in the Making" a 65th anniversary initiative written by Steve Kenworthy with design and layout by Brandon Pedersen.  Steve is a freelance writer who worked several seasons at Snow Valley as well as Castle Mountain Resort and others.  Brandon worked at Snow Valley for three seasons in the Marketing Department and continues to work in the industry as a representative for Salomon equipment.
Skiing at the site of present day Snow Valley Ski Club started informally around 1948, at a time when many areas around the city that had suitable slopes were being explored by skiers looking for new places to slide. At the time, the area was pastureland owned by a nearby farmer.
It wasn't until 1952 when a trio of men eager to develop a new ski area in Edmonton began eyeing up the Whitemud Creek basin for its commercial skiing potential.  The group operated under the name Adsum Ltd and was made up of Bill Evans, Ed Bryant and Larry Mitanski. Adsum was originally formed to develop a ski resort at Marmot Basin in Jasper National Park but they were "10 years too early" said Evans. Adsum lacked the finances and support of the national park to bring their vision to life in Jasper.  However, they still wanted to see the sport grow so they set their sights on Edmonton, where skiing was regaining popularity as part of the post-war economic boom.
After several months of planning and construction, Adsum had developed Snow Valley into Edmonton's newest full service ski area and in January 1953, the slopes officially opened to the public.  The facility included a modern rope tow serving four large slopes and trails, a chalet with snack bar providing hot drinks and providing regular ski services, a ski school and free parking for hundreds of cars.  Vertical drop was 40 meters.  During the opening weekend ski the legendary mountain guide Bruno Engler provided instruction.
The original rope tow was one that Evans and his partners had planned to use at Marmot Basin.  A Mercury V-8 engine, which produced 115 horsepower, powered it and the design ensured the rope did not become wet and icy from dragging on the ground, something that was a problem in the days of rope tows.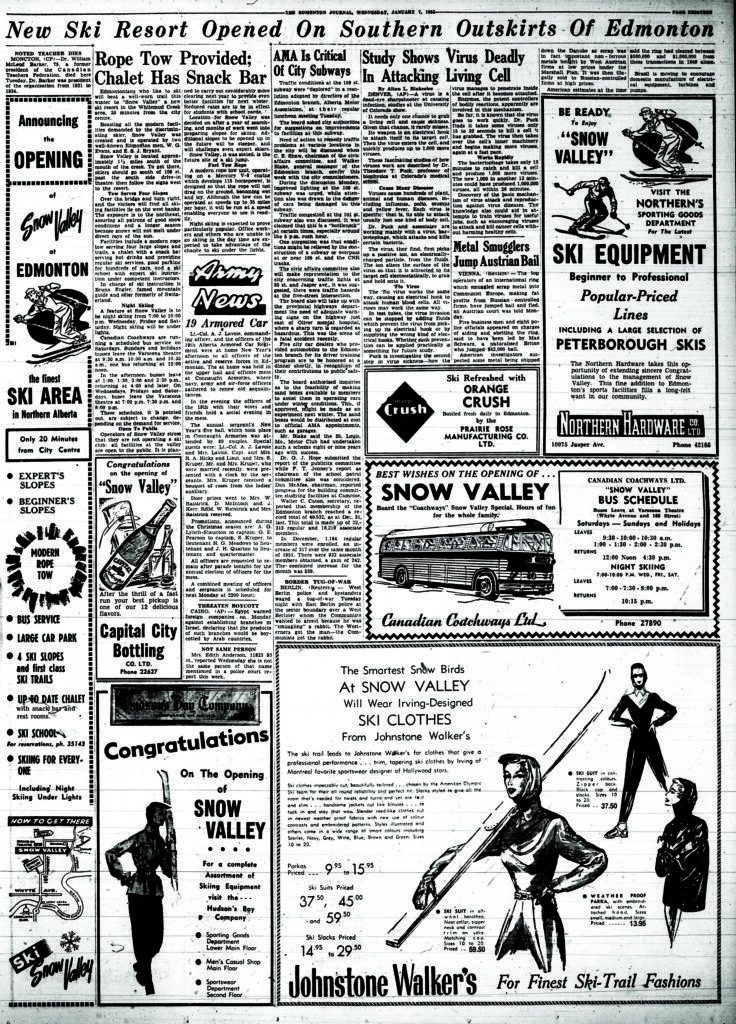 Other milestones in the early days include:
The addition of Reg and Norm Rault in 1954 to Adsum. They were very well known in the local ski community and introduced night skiing to Snow Valley among other innovations.
The second tow rope in 1956 that was almost twice as long as the original at a length of 750 feet.
Replacing the original Quonset hut that served as a day lodge with an L-shaped lodge in the mid 50's.
Edmonton was rapidly expanding and by 1960, Whitemud Creek area was annexed and the land designated for park-use. This development had a major impact on Snow Valley, as the skiing operation, which was a private commercial business run by Adsum, would now be within Whitemud Creek Park.  This would be in contravention of the city's park use policy, which did not allow commercial organizations to exist on city parkland.  In order to keep the ski operation going, a not-for-profit society was formed named the Snow Valley Ski Club, which would keep skiing alive in the newly formed park.  Bruce Allsopp, Ted Bishop, Norm Rault, Gordon Torgness, Don Gower and George Shipley signed the official Societies Act application.
Snow Valley Ski Club was formally registered as a not-for-profit society on November 30, 1961.  Historically it was a watershed moment for Snow Valley as the operation shifted from being a commercial business into an organization with a board of directors whose aim was to provide a community recreation area.
Note: The creation of the not-for-profit society in 1961 is sometimes considered the "start" of Snow Valley, leading to some confusion when it comes to celebrating the club's anniversary. The 1953 grand opening of Snow Valley is perhaps more accurate as it was the start of lift serviced skiing in Rainbow Valley but for the purposes of this publication the 1948-49 winter is considered the true beginning of skiing at Snow Valley. At that time, adventurous residents looking for new places to challenge themselves were exploring the valleys and ravines throughout Edmonton. The open, unserviced slopes of the west side of Rainbow Valley were certainly part of that simpler time when skiing was still about exploring as much as sliding