May
8
Sun
2022
Mother's Day Brunch
May 8 @ 10:30 am – 1:00 pm
Mother's Day Brunch – May 8, 2022
Treat mom to a decadent Mother's Day buffet brunch at The Lodge at Snow Valley. This special dining event is in the main lodge and runs May 8 from 10:30am to 1:00pm.
Spaces are limited – to RSVP to this special event please contact Gina at gina@snowvalley.ca or by phone at 780-809-2374.
Check out the full buffet menu here.
Pricing:
Adults| $45
Seniors| $38
Ages 4-10| $22
Under 4| no charge
For any and all questions, please contact Gina at the contact info above.
We hope to see you there!
Jun
19
Sun
2022
Father's Day at Target Golf
Jun 19 @ 9:00 am – 9:00 pm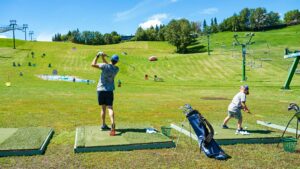 Father's Day at Target Golf
Spend time outdoors with Dad this father's day at Snow Valley Target Golf!
Join us on the slopes Sunday June 19 (9a-9p),  for family fun, all-day bucket discounts, prizes & giveaways!
Discounts: All day long, whenever you buy a bucket of balls, you will draw a golf ball out of a bag with a % discounts written on it.  The smallest discount is 25%, the biggest is Free! This means buckets of balls will range between $0 and $9 all day.
Giveaways: The first 50 people of the day will get a gift certificate to State & Main – Southgate. We will also be doing giveaways from DeBoer's Golf Shoppe all day long!
No appointment necessary; all tee boxes are walk-up/FCFS.
No clubs? No worries! We have FREE clubs available to borrow for in all shapes and sizes!
See you soon!
Jul
2
Sat
2022
Edmonton Jazz Festival Society presents: Jazz on the Hill
JAZZ ON THE HILL
Join the TD Edmonton International Jazz Festival for Jazz on the Hill at Snow Valley Ski Hill for 2 fun-filled days of music. 10 acts from across Canada will entertain crowds, sharing varying styles of Jazz.
Check out the official event page for more information and to purchase tickets.
Jazz on the Hill is a part of the TD Edmonton International Jazz Festival, a week-long, city-wide event featuring jazz artists from all around the world. The festival runs from June 26 – July 3.
Lineup
Saturday, July 2
1:00PM – 2:00PM HEAVEYWEIGHTS BRASS BAND
2:30PM – 3:30PM SHELLEY JONES
4:00PM-5:00PM MONTUNO WEST
5:30PM -6:30PM ERNESTO CERVIN'S TETRAHEDRON Ft. NIR FELDER
7:00PM – 8:30PM LAILA BIALI
Sunday, July 3
1:00PM – 2:00PM DAVE BABCOCK AND HIS JUMP FIVE
2:30PM – 3:30PM AUDREY OCHOA QUARTET
4:00PM-5:00PM MAZACOTE
5:30PM -6:30PM ES: MO – ELIZABETH SHEPHERD MICHAEL OCCHIPINTI
7:00PM – 8:30PM THE LARNELL LEWIS BAND Ft. JOY LAPPS
Tickets are available via the official Edmonton Jazz event page.
We look forward to seeing you there!