It's finally here!  Snow Valley Aerial Park opens at Noon Saturday, May 20!
Snow Valley Aerial Park Opens May 20 with lots of fun and activities for everyone including face painting and more.  And of course conquering the Aerial Park!
More details to come as more people sign on!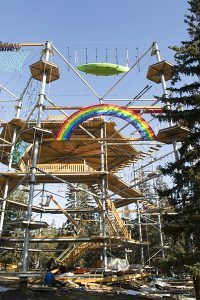 Snow Valley Aerial Park will be open May 20 until well into October.  Current hours of operation will increase as we move into the summer to accommodate for the longer hours of light.  This state of the art adventure tower will give Edmonton another family outdoor activity they can do together.  This will also make Snow Valley a year round attraction: Skiing and snowboarding in the winter; aerial tower and camping in the simmer.
Be sure to book your adventure now online and avoid the wait!  You also save $3 per person online
Head to the South entrance of Whitemud Park off 119 street inside Rainbow Valley Campground, and there the structure sits on the area of 8 former tenting sites.   The check in for Snow Valley Aerial Park will be in the Rainbow Valley Chalet at the far end of the parking lot across the road from the tower.
Snow Valley Aerial Park, Rainbow Valley Campground and Snow Valley Ski Club are managed by Snow Valley Ski Club.  Snow Valley Ski Club has been a not for profit organization officially since 1953, however alpine enthusiasts have been using the slopes here "unofficially" since 1948.