October 19 – 22 (Thursday to Sunday)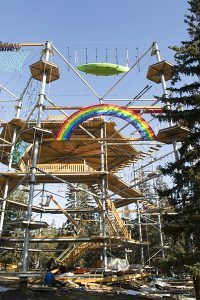 Snow Valley Aerial Park had a great first season, however all good things must come to an end.  October 19th through 22nd will our Final Weekend of 2017!
As we transition into the winter season, we're donating all proceeds from the Final Weekend  to our Community Initiative Program (Click on the link to learn more).  That includes tickets purchased on line or walk up Thursday to Sunday.
It will be a great way to send off the season and start thinking about next season.
Wait Until 2018
Snow Valley Aerial Park has exceeded all  expectations with over 25,000 adventurers in only 6 months.  And we have you to thank, Edmonton!  Next season is already in the works and we know it will be an even better experience for everyone.  Most noteworthy of which will be improved landscaping, lighting, and a designated group area.
The aerial trekking/zipline industry is taking off in North America.  We want to hear about your experiences at other 'like' facilities around the world.  Let us know either through our survey sent out after every adventure or on social media such as Facebook (@SnowValleySkiClub) Twitter and Instagram (@SnowValleySki).  We can imagine a day when there are other similar challenging outdoor activities in and around the Edmonton Area.
Obviously the majority of visitors were from the Edmonton region.   We also had a substantial amount of people from outside of Alberta and Canada.  Let's make this Final Weekend fun for you and fun for the people who benefit from Snow Valley's C.I.P..
In conclusion we hope you join us for the Final Weekend of 2017 at Snow Valley Aerial Park!