When are face coverings required?
In line with guidelines and recommendations from Alberta Health Services and the City of Edmonton we will be requiring the use of face coverings when 2 metres of physical distancing between family groups/cohorts cannot be observed. This policy will be effective beginning August 7, 2020.
At Snow Valley Aerial Park, these physical distancing "pinch points" occur primarily in the stairwell between levels and in Ground School. We require the use of face coverings in these spaces (stairwell & ground school) specifically, as well as any situations where 2m physical distancing cannot be observed.
We ask that you please bring your own face covering for climbing on the tower. If you do not have a face covering, we have some disposable face masks available to purchase for $2 each.
Face coverings explained
Face coverings are considered to be any medical or non-medical mask or other face covering (such as scarf, bandana, homemade mask, etc.) that fully covers the nose, mouth, and chin and prevents the spread of respiratory droplets.
The use of face coverings are a part of a comprehensive approach to limiting the spread of COVID-19 and are not a replacement for other preventative measures such as frequent handwashing/sanitizing, physical distancing, etc.
Click here for more information about why and how to wear a face covering properly.
When are face coverings not required?
Face coverings do NOT need to be worn when you and/or your cohort are greater than 2 metres away from staff or other cohorts.
Face coverings are also not required when doing physical exercise. This means that when you are climbing on the features, you will not need to wear a face covering. That said, we do require that you continue to maintain 2m of physical distancing and ask that, when on the tower, you keep a face covering easily accessible on your person so that you can wear it when/if needed.
We are using the City of Edmonton Temporary Mandatory Face Coverings Bylaw as a guideline. Consequently, those listed under section 5 (exemptions) of the above bylaw do not need to wear a face covering. This includes those who are unable to place, use, or remove a face covering without assistance as well as those with mental or physical concerns or limitations, or any other protected ground under the Alberta Human Rights Act, that prevent them from wearing a face covering.
For the full list of exemptions, please consult the bylaw.
Why did this change?
While we understand that face coverings are an inconvenience for some, we are committed to ensuring the safety of our staff and all guests using the Aerial Park; our new requirement of face coverings is a part of this commitment.
The City of Edmonton, Province of Alberta, and Government of Canada all recommend the use of masks to limit the spread of COVID-19 and we believe in doing our part to help limit the spread as well.
Thank you for your support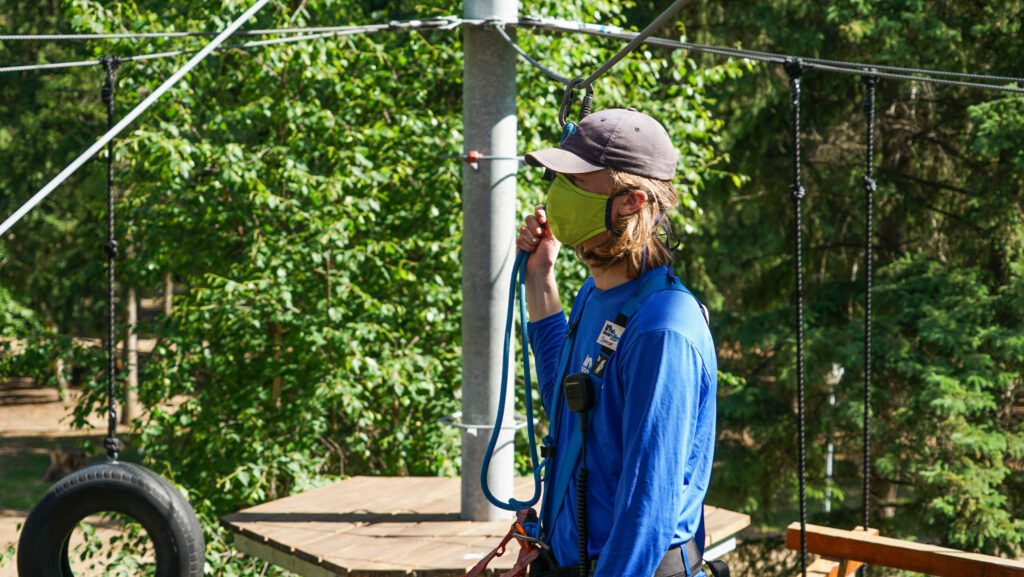 We want to thank each person who has come to the Aerial Park this year, for your support through our most challenging year on record. We appreciate your cooperation and support moving forward with these new changes as well.
If you have any questions or concerns about the face covering requirements, you can contact us by phone during business hours at 780-434-3991 or by email at aerialpark@snowvalley.ca