Welcome back to Snow Valley!
Welcome back! Snow Valley Aerial Park opens June 23 to (finally!) begin our 4th season. Due to the COVID-19 outbreak, we have made some changes to how we work so we can have safe, outdoor fun all summer long.
We are so excited to be able to open this year! Our team has been hard at work staining the tower, researching and creating new safety processes, and training hard so that you and your family can have a great time here with us in the river valley.
Booking Online will be the ONLY way to get Access to the Aerial Park
This year, ALL bookings must be made online and paid in advance with your waiver completed online beforehand. Walk-ups are not allowed, as we are trying to minimize the amount of contact and keep a physical distance between our Guests and Staff.
All participants now must be at least 125 centimetres tall (4 feet, 1 inch). Footwear has to be a closed-toe shoe that are form fitting and able to be tightened.
We take your health and safety seriously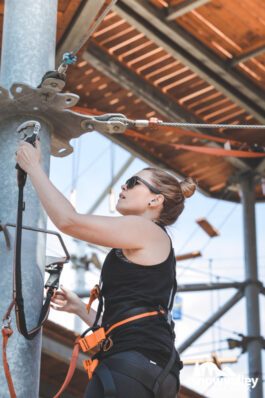 For your safety, our staff will have masks on during Ground School, or whenever they will be within 2 metres of you. Our guests are not required to wear a mask (but you certainly can if you want!).
Also new this year – hand sanitizers will be on each level. Guests are also required to sanitize their hands upon entering the tower, changing levels and leaving the tower. Harnesses will be washed after each use.
Due to our limited capacity with physical distancing, Thirsty Thursdays on the Chateau Patio, sponsored by Chateau Lighting, has unfortunately been cancelled this season.

Tim Dea, Marketing & Communications Manager
Snow Valley has signage indicating these changes and more. Please get in touch with any questions or concerns you have! Our friendly staff are always here to help.
We hope you enjoy your summer and take the time to visit us with friends or family! We can't wait to see you.