WELCOME TO SNOW VALLEY!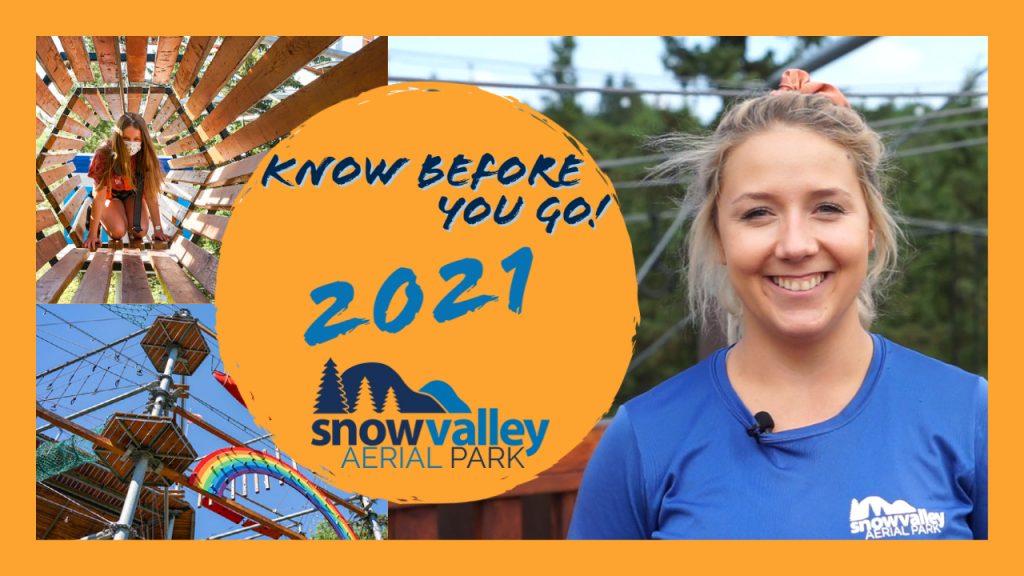 So you're about to book your Aerial Park adventure; we are already excited to meet you and your crew!
The most important things to know before you arrive:
Show up at least 15 minutes early
Wear proper footwear
Have Fun
We've prepared this handy guide to let you know what to expect. If you still have more questions about your visit, please check out our FAQ page, or get in touch!
BOOK YOUR CLIMB ONLINE.
Before even getting to the aerial park, you will have to book your time slot for each participant online beforehand here.
Ways to save pro-tip: To save more on your adventure, consider purchasing the Extra Value Card or visiting mid-week & during twilight rates.
SHOW UP EARLY!
This is SUPER IMPORTANT! You must check-in at least 15 minutes before your adventure is scheduled to begin. Capacity on the tower is limited. If you miss your starting time, you risk forfeiting your entire adventure.
WHAT TO BRING:
You MUST bring closed-toed shoes (no crocs!). This is the only thing that is mandatory.
Some other things that you may want to bring include:
Water Bottle
Sunscreen
Bug Spray
Rain Jacket
We have some small, complimentary lockers at the base of the tower to securely store small items–such as jewelry and phones–in.
Need a glasses harness? Just ask a guide during Ground School!
WHEN YOU ARRIVE:
Once you get here, head to the Guest Services check-in window to collect your pre-purchased tickets. Guests will also have their heights verified at check-in.
All participants on the tower MUST be at least 125cm (4' 1") tall.
People taller than 125cm (4' 1") but under 140 cm (4'7"), can access the Ground-level course without a chaperone but will need a chaperone present to help them navigate the normal tower.
Once your time begins, there is a 15 to 20-minute ground school where one of our friendly guides will help you fit into your harness and teach you how to use the course.
LAST STEP: HAVE FUN!
With over 100 obstacles of varying difficulties to explore; there is truly something for everyone! Pick your own adventure: check out all of your favourite obstacles, and none of the ones you don't want to do!
After your time to explore the tower is up, you will make your way back down the tower to make space on the tower for the next group.
MORE TO EXPLORE:
When your climb is done, your fun at Snow Valley doesn't have to end there! This summer, we have two new attractions:
Make sure to show your Aerial Park ticket at these attractions and save 15% off!
We also have new dining options this year, including the Scoop Shack Ice Cream, Tito's Patio, and The Botanist Garden.
Any other questions? Check out our FAQ page, or get in touch.
See you at the tower. We cant wait to hang out!