Join us on Sunday, August 28th from 10:00 am to 4:00 pm along with shops and resorts for our annual Tent Event!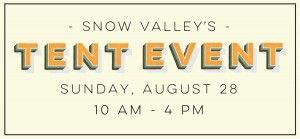 Shop for items such as skis, snowboards, clothing and more from: Sundance Ski Shop, Skiers Sportshop, Snow Rider, Marmot Basin, Sunshine Village and more!
Snow Valley's Guest Services will be open so you can pick up or purchase your family, adult, youth or junior season pass at 15% off the regular price.
Be sure to bring down a donation for the Edmonton Food Bank, as well!
Tent Event, August 28th in front of the Lodge at Snow Valley.
Welcome to the 2016-17 Season!